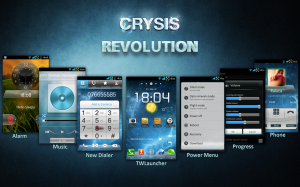 One of the many advantages to running a custom ROM is the theming options that are opened up.  Most custom ROMs these days are deodexed, which means the theming elements have been separated from other code.  This means you can flash a new theme just like you can flash a new rom.  Typically you download the theme zip file to your internal SD card, then reboot into recovery, clear cache and dalvik cache, and flash the zip file.
I decided to try out the Crysis Revolution theme even though I was quite happy with the look and feel of Darky's ROM out of the box.  I was pleasantly surprised to see how much I liked the Crysis theme.  Crysis21 has done a lot of hard work and the results speak for themselves:

You can download the Crysis theme from this XDA thread.